Location Map:
June 4, 2018 to June 5, 2018
8:00 am to 4:00 pm
DoubleTree by Hilton Hotel West Edmonton
16615 109 Avenue NW
Edmonton, AB
T5P 4K8
Canada
Add to Calendar (iCal) Add to Google Calendar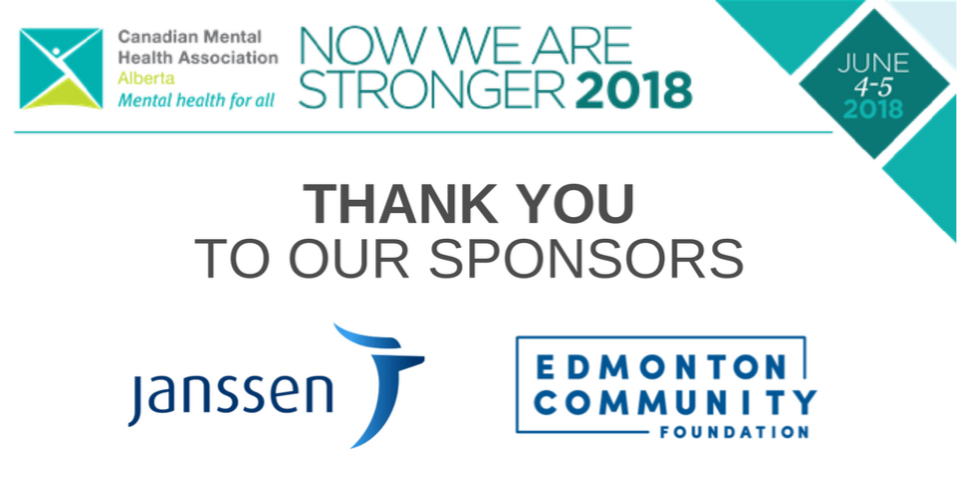 A provincial conference advancing community mental health 
This June, the Canadian Mental Health Association, Alberta Division is hosting a conference designed to advance community mental health throughout the province of Alberta.
Now We Are Stronger • A Provincial Conference Advancing Community Mental Health is two days of information exchange and dialogue that will advance the work in our dynamic fields. It brings together the most creative and inspiring mental health thinkers and leaders in the field.
The conference – June 04 and 5, 2018 in Edmonton– will feature keynote speakers, workshops, panels, presentations, training opportunities and exhibits.
What Will Set This Conference Apart? 
This conference is two days of networking, information exchange and dialogue that will advance the work in our dynamic fields.  With a focus on indigenous mental health, rural and remote community mental health, and child, youth and family mental health, this conference is ideally suited to organizations and individuals from Alberta focusing on mental health and mental illness.
This conference is offering a robust and stimulating program of keynote speakers, presentations, panel discussions and excellent networking opportunities. Delegates will have the opportunity to choose from many carefully curated workshops.
Indigenous Mental Health
Sessions within this stream will:
showcase successful or emerging programs being offered across the province that support the mental wellbeing of Alberta's indigenous population. Discussions of challenges, successes and learnings will be helpful to participants' learning experiences.
discuss factors and issues important to the successful support of the mental health of our indigenous population – what challenges are being faced and what helps mitigate those challenges.
weave other topics of interest into the discussion of indigenous mental health such as addiction, lived experience, caregiving, etc.
Session attendees will come away with an understanding of indigenous mental health experiences and what Alberta's community mental health service providers, advocates, family and friends can do to support improved mental health in the indigenous population.
Rural and Remote Community Mental Health
Generally, accessing addiction and mental health services is challenging, especially in rural and remote areas. In many cases real or perceived barriers and lack of knowledge often limit access to services and supports needed by individuals and families impacted by mental illness and addiction.
Knowledge of and access to services, equity in service delivery, promotion of mental health, prevention of mental illness and general education related to mental wellness are all factors which build community capacity.
Join us as we draw on the experiences of rural and remote communities, identify systemic issues and recognize local resources. Together we will create better pathways for rural communities to access existing mental health and addictions services and forge new community based opportunities.
Child, Youth and Family Mental Health 
Families are impacted by mental health concerns every day in Alberta. There are specific challenges and barriers faced by children, youth and families within the current mental health system.
Session attendees will come away with an understanding of child, youth and family mental health experience, learn how to successfully engage with this demographic, and knowledge of new and emerging supports available to young Albertans and their families. This stream provides you with practical strategies for engagement and inclusion that have worked for others in Alberta.
Where and When is the Conference? 
DoubleTree by Hilton Hotel West Edmonton
16615 109 Ave NW, Edmonton, AB T5P 4K8
June 04 & 05, 2018 8:00 am to 4:00 pm
Cost
Early Bird: (Registration opens March 07, 2018) $325
Regular Fee: (Register after April 07, 2018) $375
Cancellation Policy 
If your plans change after you have registered you may:
Designate a substitute to attend in your place, at no extra cost. Please notify us of the name of the person attending as soon as possible prior to the conference for which you registered. This will allow us to correct our records and minimize confusion at check-in.
Travel Discounts
WestJet 
We are happy to confirm that for the upcoming CMHA Events, we are able to offer 10% off Econo and 15% off Plus base fares* for travel into and out of Edmonton, Alberta to and from anywhere WestJet flies in North America. To take advantage of this offer, you will need the discount code listed below. If you have questions about how to complete a booking with your discount codes, please check out our frequently asked questions.
Event name and City: CMHA Alberta – Calgary/Edmonton
Travel Dates: May 28 – June 12, 2018
Coupon code: 15UX6AY
Promo code: *for call in reference only: WNR63
Air Canada
This a promotion code for the convention product. To book a flight with your promotion code, access aircanada.com and enter your promotion code in the search panel. To qualify for the Meeting and Conventions special fares a minimum of 10 delegates is required travelling from various origins to the same destination within air canada's extensive North American and international network. customers will benefit from an instant online registration and enjoy a ten per cent discount on eligible fares.
Promotion Code: 9ACACM41
Applicible Rules:
The booking is to be made to the following city: Edmonton, YEG (AB)
The travel period begins Monday, May 28, 2018 and ends Tuesday, June 12, 2018.
Travel is valid Monday, Tuesday, Wednesday, Thursday, Friday, Saturday, Sunday.
No discount will apply to Tango bookings for travel within Canada or between Canada and the U.S. For International travel (destinations outside North America), discounts apply to all fares including Tango.
However, all bookings made using the promotion code will count toward the minimum 10 passenger requirement for Meetings and Conventions events.
---
---