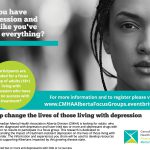 You are not alone.
The Canadian Mental Health Association is seeking information on your lived experience to understand the impact of depression on the lives of Albertans.
Your participation in a focus group centered around depression will help the Canadian Mental Health Association (CMHA) Alberta Division gain a greater understanding of the impact depression has on the lives of those living with the disorder. The information and experiences you share will be used to develop resources aimed at supporting Albertans impacted by depression.
You can participate if you:
– Are 18+
– Are diagnosed with depression
– Have tried 2 or more anti-depressants with minimal results
You may also have spoken with your doctor about non-prescription treatment options for depression.
Focus groups will be held:
Calgary / Calgary Centre Library 
October 11, 3:30 pm – 5 pm & October 12, 9 am – 10:30 am
Edmonton / Saville Community Sports Centre 
October 18, 3:30 pm – 5 pm & October 19, 9 am – 10:30 am
Red Deer / CMHA Central Region Office 
October 15, 3:30 pm – 5 pm
To register, please click HERE.